When you go tiny, every little detail matters. That's why we spent SO MUCH TIME designing our tiny house; we wanted to be delighted with the results and not feel we were compromising on those things most important to us, like a big kitchen, clean, modern lines, and plenty of windows to let in the natural light and surrounding beauty.  Fast forward a year and we LOVE OUR TINY HOUSE! 🙂
When starting out we found it very helpful to look at other tiny houses to pick and choose ideas we liked, so hopefully sharing this tour will do the same for you. Click on the gallery thumbnail images to view larger versions, and don't miss the video tour at the end. Jump to video tour
Exterior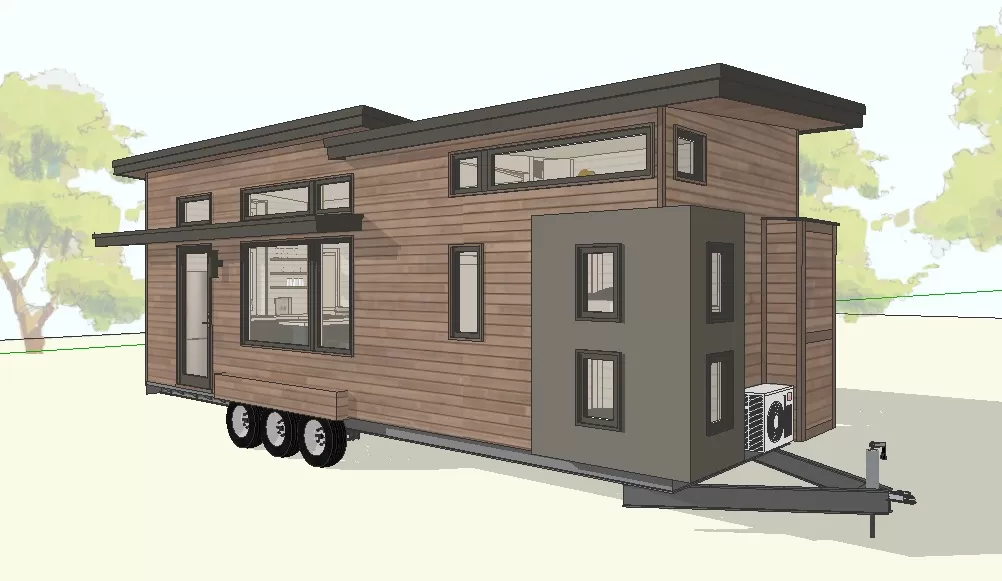 We designed our home from the inside out but knew we wanted a modern exterior aesthetic. While we had rough window locations and the split shed roof in mind, we relied on 2 Wilsons Architects to pull it all together and produce the result you see here. The metal bump-out on the corner was their idea for how to cluster those windows together, which resulted in the added benefit of more space in the bunks for our daughters. We couldn't be happier with the final product.
More Exterior Pictures
Kitchen
My wife is a cookbook author so, naturally, the kitchen is where we started.  LOTS of counter space was a must, as well as a gas range. Here are some more details:
18″ panel front dishwasher
Silestone countertops with 2.5″ apron
Gas range with electric oven
Tall refrigerator with filtered water dispenser, ice-maker, and freezer on the bottom
Pull-out trash can
Custom storage including large lazy Susan and long pull out shelves under sink
Custom walnut shelves
Future projects include a small range hood (wrapped to match the wall), a disposal, and a removable 1ft counter extension to create a dining area opposite the pictured stools
More Kitchen Pictures
Living Room
Our goals in the living room were to bring the outside in, provide a place the whole family could chill, and offer additional sleeping capacity for guests. The couch has a trundle bed that pulls out (for two sleeping areas high and low) and pops up (for one large area to sleep or lounge). It's a great place for the family to play games or watch a movie if the weather is bad.
So where is the TV, you may be wondering? For now, we set a laptop on one of the acrylic stools and run sound through a Bluetooth speaker, but soon I'll be custom mounting a 27″ flat screen inside of a flip top/bench ottoman. Also, the tall 2×2 ft tower in the corner across from the stairs (see pics below) is storage for shoes, our vacuum, an extra stool, and shelves for miscellaneous items.
More Living Room Pictures
Bathroom
With four people sharing the tiny house, including my wife and two daughters aged 10 and almost 13, we did NOT want to share a single tiny sink with no counter space like you see in so many tiny homes. Instead, we designed a 6 ft counter with two sinks, a kneehole with acrylic stool between, and four huge drawers plus two medicine cabinets for storage. And bonus, we have a window with a view of the mountains and sunset!
The "bathroom" is actually separated into two areas by a sliding pocket door: the above-mentioned "vanity hall" and the "shower room" containing a full-sized conventional toilet, a full-sized combo washer/dryer, and a 5ft deep walk-in shower complete with a frosted glass door and both standard and rain shower heads. With this configuration, our family members can simultaneously (and privately) take a shower, use the toilet, and utilize two sinks. The vanity hall can be shut off from the living room with another pocket door.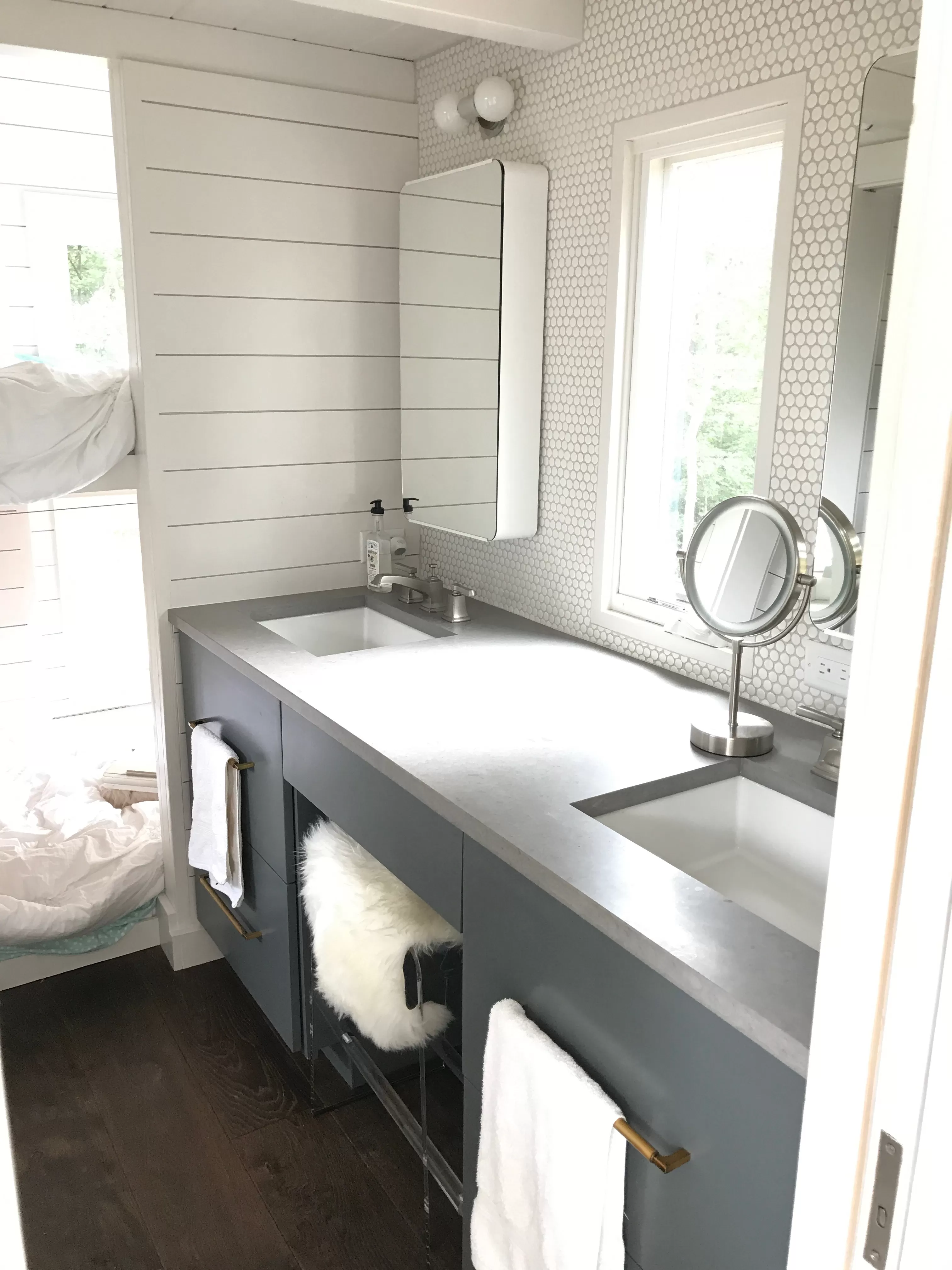 More Bathroom Pictures
More Pictures
I'll be updating this page soon with pictures of the bunks and loft, but for now you can view the video tour below.
Tiny House Video Tour